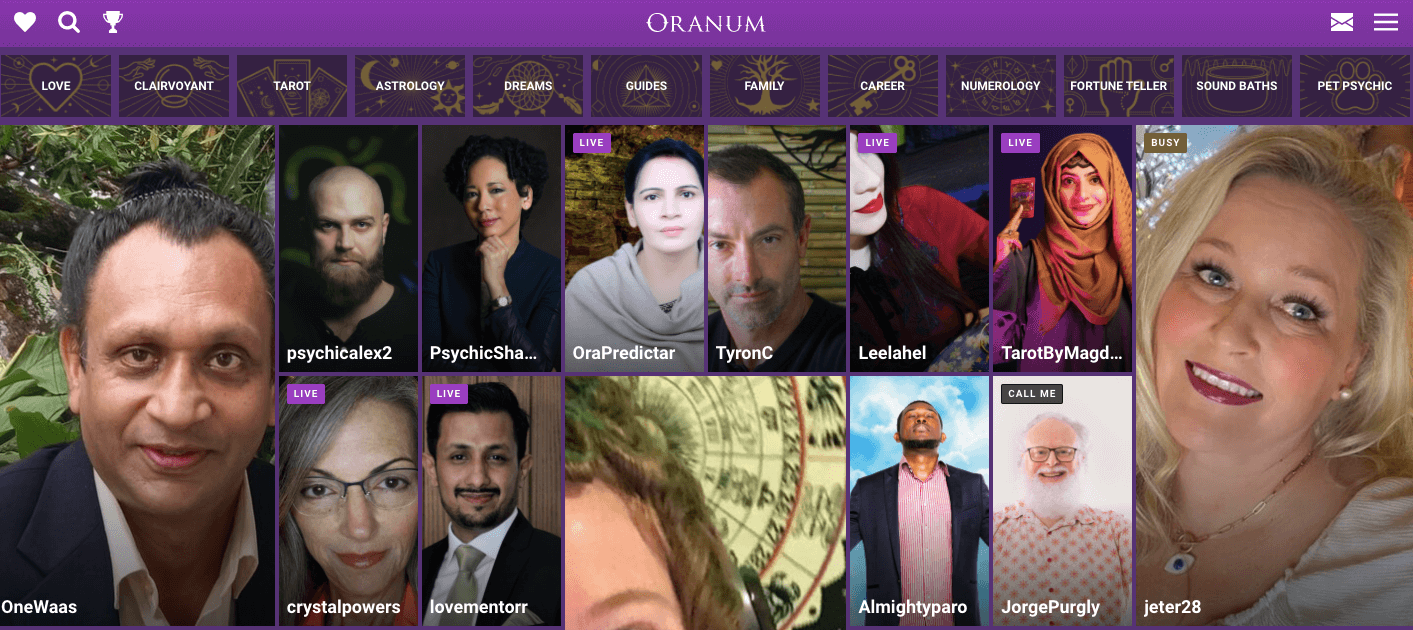 Readings Offered
Oranum has a dizzying array of psychic reading services that almost feels daunting. There are 12 categories in total, but these are the most popular:
Love
- Do you have burning questions about love? Well, Oranum is the best place to be. They have hundreds of experienced psychics who can help you navigate the stormy waters of love and relationships. These expert love advisors can also perform karmic love readings and horoscope interpretations.
Tarot Cards
- It might be a tad overkill to get a Tarot card reading for your daily life decisions. However, there are times that these cards can give us divine guidance when making important life decisions. Besides the standard Tarot card reading, this category also includes rune, gypsy, and angel cards.
Dream Interpretation
- Curious about what a recurring dream is trying to tell you? A psychic that specializes in dream interpretation might be able to figure it out for you.
Palm Readings
- Traditionally, palm reading requires face-to-face interaction between the sitter and the medium. Thanks to Oranum's video chat feature, it is now possible to get an accurate palm reading straight from your mobile phone.
Clairvoyance
- Intuitives and clairvoyants are highly intuitive psychic practitioners who can "see" images or visions about the sitter. These visions are not necessarily related to the dead but can also be about events or the sitter's current circumstances. Other than clairvoyants, Oranum is also home to clairaudients (hears voices), clairsentient ( recognizes feelings), and claircognizant (knowing).
Family
- This is a welcome category that is not offered somewhere else. Oranum's family category lists psychic readers who can provide clarity and guidance when things at home are less than ideal.
Others
- Looking for something a little more unusual? You're likely to find it here. Oranum also features niche categories such as Chakra Healing, Reiki, spiritual guides, rituals and energies, pet psychic, numerology, and more.
How Does It Work?
As soon as you land on Oranum's website, you'll be presented with a collage of psychic's profiles. You can see who is currently broadcasting or available for a call or video chat. If it's your first time visiting the site, we'd recommend jumping in on one of the live streams so you can see the psychics in action. During this free session, you can only observe and send predefined messages. If you like what you see, though, you can create an account, submit your credit card, and purchase coins to book your private session.
Is It Legit?
Oranum has been around for nine years now and has grown to become one of the largest online spiritual communities. Their psychic vetting process is not disclosed anywhere on the site, but a quick email to customer support confirmed that all psychics undergo a background check. In addition, there are additional safety measures in place:
1. You can test out each psychic before paying anything.
2. They have adopted a coin system, so you don't go crazy with your minutes. Oranum also meets the requirements of PCI-DSS to ensure the security of your credit card transactions.
3. McAfee and VeriSign regularly validate this site for customer data protection.
4. Their per minute rate is capped at $9.99 to prevent some practitioners from charging too much. This is a huge plus considering that psychics on other sites can charge as much as they want.
Pricing
Unlike other psychic reading sites that charge on a pay-per-minute basis, Oranum operates on a coin or credit system. Upon signing up, you get introductory free credits amounting to $9.99. After that, you can purchase additional credits. Packages can range between $27.99 to $97.99 and includes bonus credits. Oranum is more affordable compared to other online psychic reading sites that we have reviewed. Private readings can cost anywhere between $0.39 to $9.99 per minute.
The Bottom Line
Oranum is unlike any we've ever seen, and we're seriously loving it. It feels more personal, with psychics live streaming and posting selfies and reels, giving it more of a social media vibe. It's fun, interactive, and user-friendly. More importantly, this is one of the few psychic communities that offers 24/7 customer support. Sure, it would have been better if there were public reviews and star ratings, but Oranum more than made up for this with their free live sessions. Whether you're new to the world of psychic readings or you've had sessions before, this site is one of the best psychic networks to try.