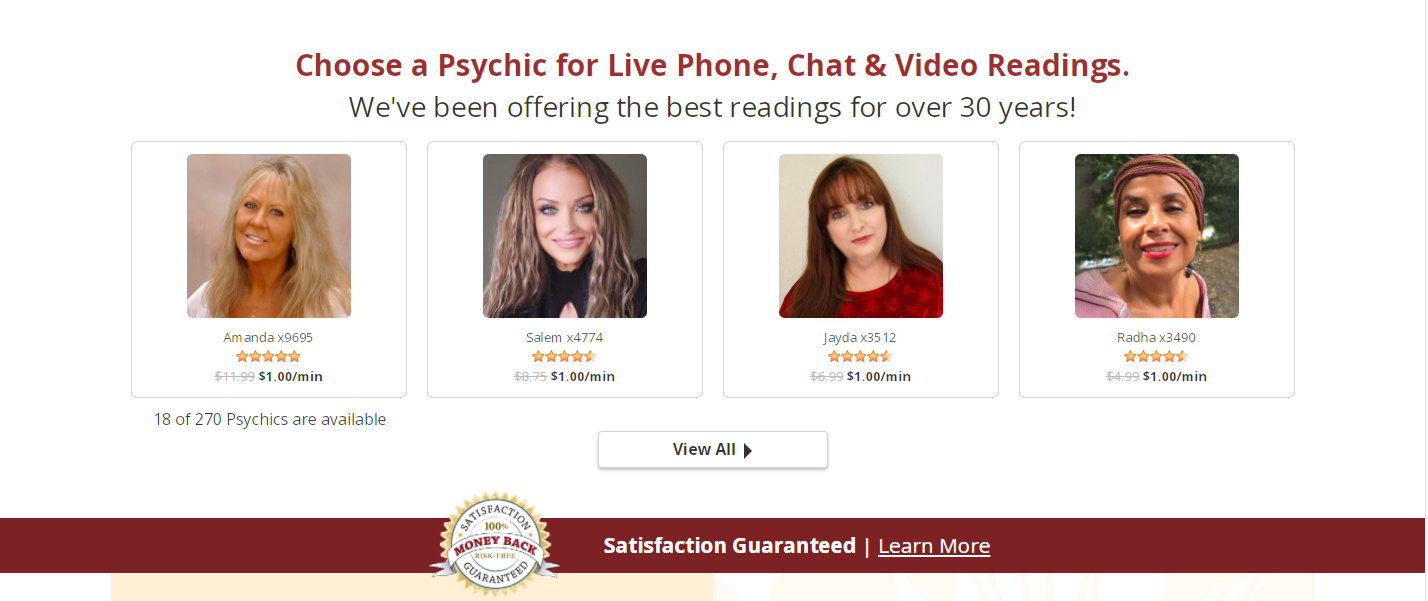 Readings Offered
Psychic Source offers a considerable range of readings spanning all of human existence. Impartial advice on your relationship, career, finances, and loss is available from psychics specializing in crystals, tarot cards, numerology, and much more. Really though, you would expect much the same from any reputable and established business. What differentiates Psychic Souce from its competitors is the exhaustive list of sub-categories its practitioners specialize in. Specialties you may not find elsewhere, such as:
Office Romance
- Blurring that line between professional and personal life can be fraught with difficulty and potential pitfalls. It also has the potential to be the best decision you will ever make. Before making a potentially life-altering move in one way or another, it may be wise to consult a psychic with proven skills in this very niche.
Unlocking Psychic Abilities
- Do you often find yourself reading a situation with a degree of accuracy that can't be explained by intuition alone? You may have a natural affinity for the supernatural. Most psychics do not reach their full potential on their own. It takes the guiding hand of an experienced mentor to unlock that door and unshackle the chains of what we are told is 'possible.'
Loss of a Pet
- Few things in life are as heartbreaking as losing a cherished pet. Those who have not experienced such grief sometimes fail to understand it is not just the loss of an animal but a family member. Achieve some much-needed closure from a psychic experienced in reaching across the aisle and making contact with a furry companion.
Social Media Influence
- Always at the forefront of modern-day issues, Psychic Source features a host of psychics specializing in social media. Whether you are looking to grow your following or rid yourself of negative energy from an online presence, this is one of the few spaces you will find such tailored readings.
Whether you are searching for answers to the timeless issues of romance and loss or require a less-traditional reading, Psychic Source offers an impressive range of readings few other sites can rival.
How Does It Work?
The Psychic Source website features 250+ psychics who can be filtered by all the extensive categories and subcategories you would expect from such an established site. Find your preferred psychic based on their specialty area, their preferred tools, and even personal reading style. Whether you're looking for a compassionate tarot reading regarding job prospects or a direct, no-nonsense assessment of your relationship, finding the right practitioner is a breeze. All profiles feature an intuitive schedule that allows you to book an appointment during the psychic's operating hours. Alternatively, you can filter by availability if you need to speak to someone immediately. Most psychics offer a choice between messaging and voice calls. A few also offer video calls though the selection is more limited.
Is It Legit?
Building a reputation in the earliest days of internet readings and maintaining a presence at the forefront of the industry for decades is no small feat. The staying power of Psychic Source is a testament to the legitimacy they bring to the psychic business. Over the years, they have curated a group of the world's most respected psychics. All must pass a rigorous selection process designed to identify only truly-gifted practitioners. They also put their money where their mouth is, offering a money-back guarantee to anyone unsatisfied with their reading. Unfortunately, some users have reported negative experiences, with customer service either being unwilling or unable to resolve issues pertaining to poor readings or delays in refunds. While the general experience is positive, the service should something go wrong appears to be lacking compared to similar sites.
Pricing
Psychic Source features over 250 practitioners and, unlike other sites, does not set a limit on the amount individuals can charge. That means some of the highest-rated psychics can charge as high as $20/min, though the vast majority fall between an industry standard of $1-$10/min. They also offer a very generous new customer rate of just $1/min for the first 30 minutes, redeemable even with some of the most experienced psychics. Well worth it if you are feeling a little hesitant or on a tighter budget.
The Bottom Line
In such a competitive market, a psychic website simply will not survive if it is not based on legitimate and reliable foundations. With three decades' experience, Psychic Source is the longest-running national psychic service in operation. This is thanks to a rigorous selection process allowing only the most gifted psychics the opportunity to work with them. A very generous introductory rate is sure to entice even the most unsure newcomer, while a legitimate satisfaction guarantee ensures money is never lost to a subpar experience. Issues with the responsiveness and effectiveness of customer service prevent us from scoring Psychic Source a perfect score. Still, for the vast majority, the experience was everything they could have hoped for. We particularly recommend Psychic Source if you require a niche reading you have not seen available elsewhere. The range of readings on offer here is truly impressive!